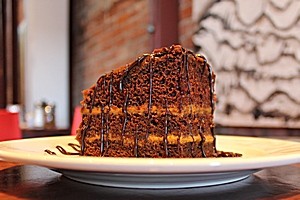 "This is the best Tiramisu ever!" and "This chocolate cake came from heaven!" and "I'm a forever fan of the Flan!" are a true sampling of comments from our thrilled customers. And we humbly know we deserve it because of all the passion and time we put into making them.
Here's a little hint—in two words—about why we're experiencing a surge of growing success at La Gitana: "HOUSE-MADE". Or should we say "WIFE-MADE"? Haha! Yes! Our lovely Lumy, the wife of one of the owners, is the Master Chef in the "delicioso" department. Lumy is the only one who knows all these secret recipes. (We're thinking of hiring the Secret Service to surround Lumy and protect her secrets.)
From our organic pizza dough to all of our dressings and desserts, we always insist that all our foods contain only the freshest and healthiest ingredients. And if your day or your life needs some "sweetening", just remember Lumy's secret deserts. We bet you that it's going to be love at first bite!